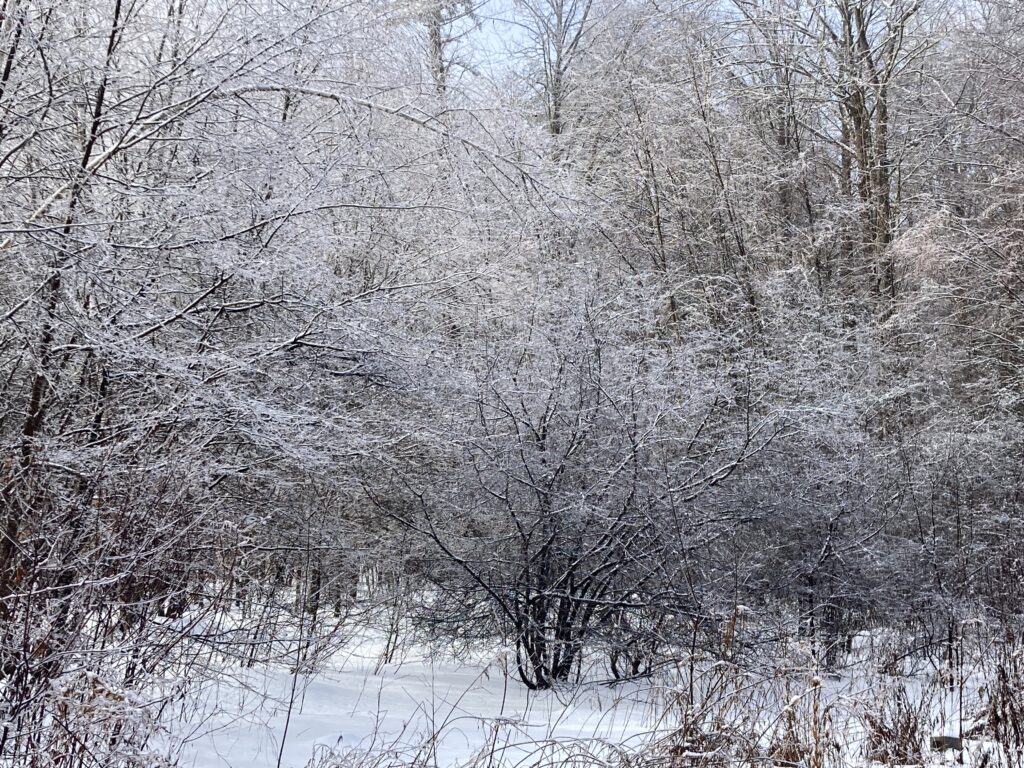 A sticking snow gently fell, outlining the trees in the witch hazel grove. What was invisible to my eye, emerges, under the soft hands of crystalline water, into the magical beings, as seen above, who's arms reach out gracefully, in blessing, and communion. The arrival of snow unveils my eyes to see the extraordinary that is in, and always present in the ever present ordinary.
A storm illuminates gifts ~ sometime, during the last Spring storm, a large gathering of goldfinches arrived. I discovered these small visitors when I awoke that morning to a moving mass of feather friends on the ground. There must have been over a hundred of them. And I have heard from other bird watchers, that every bird station in a 30 mile radius reported the same thing! As one friend wrote to me, "It's hard to believe that anyone else has had goldfinches, when I thought we probably had them all!" I felt the same way.
They moved with determined self-possession, unapologetically mingling with those who reside here through the winter. The mass moved wing to wing, under and over, on and off all the residents, my two feeders and each other. Their behavior demonstrates a determination to make themselves fully at home. They join the locals confidently and fervently, chirping, hopping and eating with single purpose focus outside my home. Even when I opened my door to restock the supply of seed, they barely moved off. They felt most tame for a goldfinch
Here, in the hills, a Spring storm brings many types of surprises; I go to sleep with the dark, and when I awake, maybe I'll wake to snow-blankets smoothing over the rough edges, or ice crystals layering and defining, crystal rainbows shimmering, rivers flowing spontaneously from underground springs, wind blowing in wild news, or, as in this case, the arrival of new visitors. For now, the ground is a moving spectacle of feeding birds.
Curious to hear what lessons today's news brings, I watch and listen to the moving tide of feathered beings outside my door. I notice here, under my feeder, moves a community mingling, communing, connecting and leaving room for all to eat, belong, and have a place. A community holding space for all individuals present. And enough for all to feast.
The residents appear to take it all in the stride of their day. Occasionally, the Juncos do seem overwhelmed by the crowding as they take their seed elsewhere often, to enjoy their meal in more accustomed solitude.
Perhaps the Blue jays are a little less scarce as well. I can imagine that the crowd of birdness would make their usual landing style difficult. No room to fly in on the "run-way" in this gathering. No room to make their usual landing accompanied by "shriek," and "hop, hop, hop." Now, as I think about it, no one would take much notice of them or their shrieks. The birds who flew in from afar, have other business at hand. They are more focused on other concerns and passions than a loud neighbor.
I suppose one's need for space varies not only on personality, yet also on one's species special gifts.
And the change is a gift to watch and share. I love watching how the finches have a sense of belonging, and a sense of place. And that here, under this one feeder at least, there is A place for all, and All with a place.
Then overnight,
the flock left. All still.
All so, so quiet.
Maybe the message today is to welcome all the visitors who arrive even if they disrupt the usual flow of patterns, force a change of habit. Maybe especially if they force a change of habit. They may be ushering in a carpet of welcome change
Their transience, their unexpected arrival, reminds me of Rumi's poem, The Guest House. Here are excerpts from it ~
"This being human is a guest house,
Every morning a new arrival."

(Whether it is a bird, an experience, or a feeling.
They can arrive most unexpectedly.)
"Welcome and entertain them all!
Even if they're a crowd of sorrows,
who violently sweep your house
empty of its furniture
Still, welcome them all honorably
This guest may be clearing you out for some new delight "
......
"Be grateful for whoever comes,
because each has been sent
as a guide from beyond"
This being alive brings the unexpected.
The gifts inherent in that often feels invisible, how to welcome them even so....
What visitor has arrived at your door today? This moment? Who is a possible new friend who will unveil your eyes to see beyond the ordinary to the blessing reaching for you. Ready to drop gently into your hands, your outstretched arms, as crystal water that melts so softly to the Earth, who in turn reaches for the gift with open arms.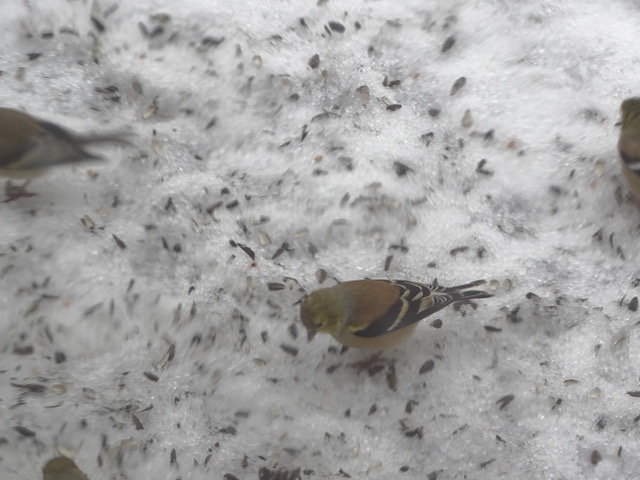 Postscript: I want to share that my blog had a server challenge ( I HOPE all fixed), delaying the posting of this piece. As I finish it now, to send to you, a gentle and steady snow graces us again today . A different storm. And a storm in perfect timing. As each flake brings unique beauty, so does each cloud of snow brings a flavor of ki's own. One sticky, one icey, and another gentle and persistent, as this one is. The magical many-fold languages of snow! A uniqueness that we begin to perceive, to discover and then to better receive. Each one with a blessing, and each with news and stories to share.
This one falls like magic cascading from the heavens with intent to land softly on our hearts.
I send the the energy of gentle cascading love falling you into you.
SO much love.