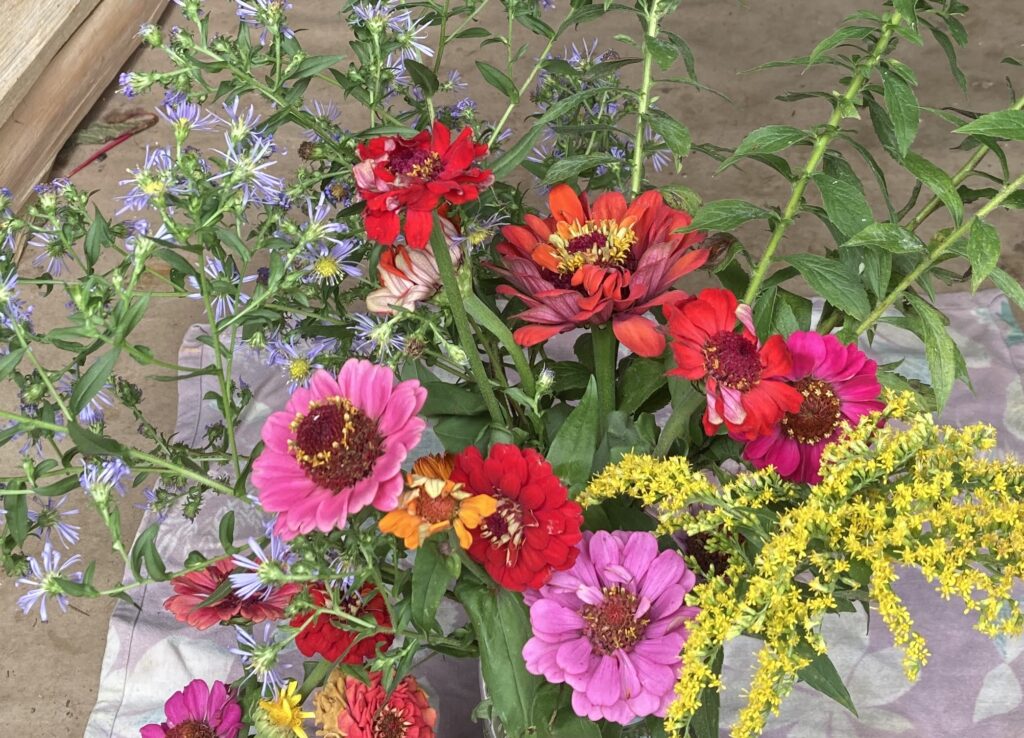 Lady Fall peeks out from behind the edges of the trees now. Illusive, formless Mist lies low in the valleys; the light refracts long angles in the fields; white-laced clouds edge the horizon; squash ripens in the fields; the dear frogs wend their hopeful way to their paradise of mud. I walk paths between the mountain and valley.
In all this, Lady Fall reveals herself slowly, treading lightly this year, courting us with glimpses and sips of her coming glory. Growth and decay lie side by side. Vibrancy and mistiness, red and green, breath and form bow and dance with each other.
I feel comforted when any of these perceptions of fluid beauty enter my awareness. In these moments of color in motion, I feel her smiling and waving to me.
In return, I smile too.
I welcome her into my home tonight with a bouquet of late blooming asters, zinnias, and goldenrod. A bouquet of summer gifts that offer last minute warmth and nectar to all. I gather these blooms, as the rising dusk falls across my path, as the music of the day changes to gentle whispers from the breezes whispering of the ever presence of love. "Remember love, Remember hope. Remember Summer, Remember Now."
The sun and I will rest earlier and earlier now. Our eyes turn to the inner stars of the night.
I publish this post, on the Fall Equinox in the North. This year, the recalibration coincides with a new moon (in two days.) This balancing point, offers us both an opportunity to find inner balance and an opportunity to dream into being a new kind of balance; to notice the refractions of light in our field, as well as to notice how we perceive them. And from there, to create of the dark of the void, the place from which all creation begins. To breath form into color.
"May the light shine upon your hearts
May the road that you walk, guide you home
May the light in your heart shine as bright as the stars
And may the song that you sing never end. "
Unknown